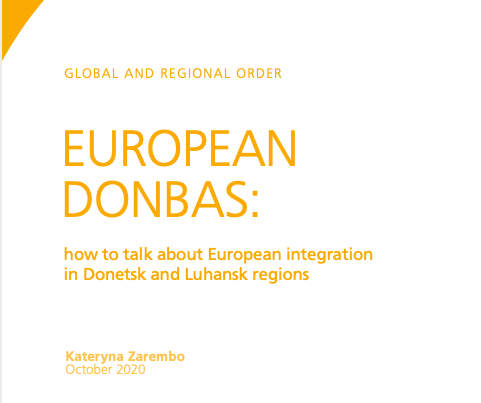 Donetsk and Luhansk regions are difficult target audiences as far as European integration is concerned. Some of the reasons include low public support for European integration.
How should one talk about European integration in Ukraine's east for this topic to be unifying rather than controversial? What does "being a European" mean for local residents and how have attitudes towards the EU changed since 2014?
The New Europe Centre offers to your attention the research by Kateryna Zarembo on the communication of European integration in Donetsk and Lugansk regions will be presented.
The research is based on three sets of data:
six focus groups held by the Centre for Applied Research in four cities of Donetsk Region (Kostyantynivka, Pokrovsk, Bakhmut, Mariupol) and two cities in Luhansk Region (Severodonetsk, Starobilsk) in June 2020;
findings of a survey by SCORE Ukraine, which were not published before (2019);
a series of research interviews with activists, entrepreneurs and opinion leaders in Donetsk and Luhansk regions in August-September 2020.
Please find the PDF-version of the research here.
The paper was prepared within the project "European Donbas: How To Talk About European Integration in Donetsk and Luhansk Regions" kindly supported by the Friedrich Ebert Foundation Representation in Ukraine. The views expressed in this publication are not necessarily those of the Friedrich-Ebert-Stiftung or of the organization for which the author works.