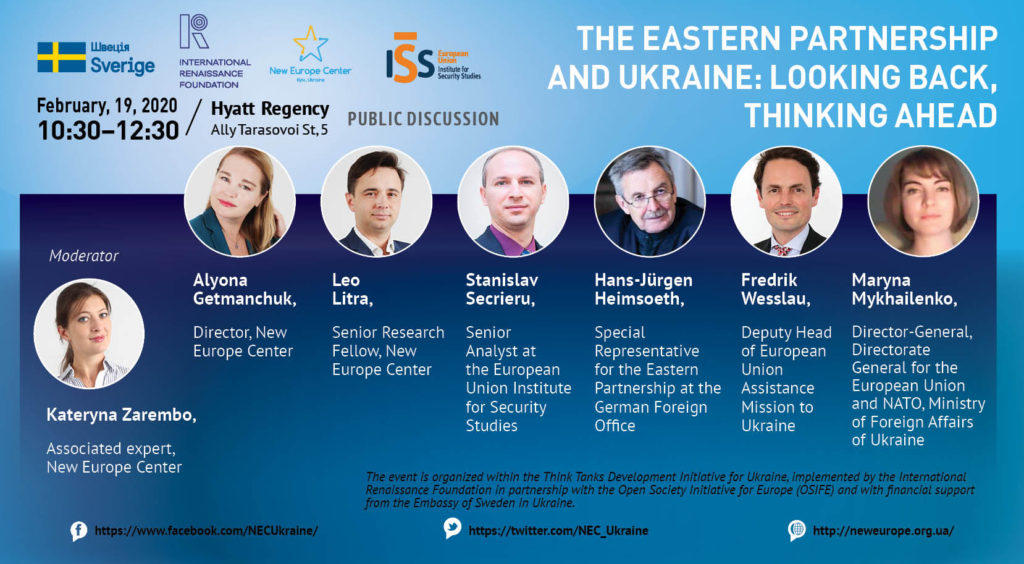 The New Europe Center has the honor to invite you to the public discussion "The Eastern Partnership and Ukraine: looking back, thinking ahead", organized in partnership with the European Union Institute for Security Studies.
The review of the Eastern Partnership initiative requires an exercise of collective thinking on how to make the EaP more relevant and efficient for the region. Over the last 10 years of existence, Eastern Partnership proved to be successful and helped EaP states in delivering more and better reforms.
At the same time, EaP has been vulnerable in addressing certain issues, such as the security one. All in one, the Eastern Partnership needs to be reformed so it responds to the current challenges in the region.
The event will be centered around two main ideas:
Speakers of the event:
Alyona Getmanchuk, Director, New Europe Center
Leo Litra, Senior Research Fellow, New Europe Center
Kateryna Zarembo, Associated expert, New Europe Center
Stanislav Secrieru, Senior Analyst at the European Union Institute for Security Studies
Maryna Mykhailenko, Director of the European Union and NATO Department at the Ministry of Foreign Affairs of Ukraine
Hans-Jürgen Heimsoeth, Special Representative for the Eastern Partnership at the German Foreign Office
Fredrik Wesslau, Deputy Head of European Union Assistance Mission to Ukraine
The event will take place at Hyatt Regency (Ally Tarasovoi St, 5) on February 19, 2020, from 10:30 to 12:30 (registration begins at 10:00).
We look forward to hosting you at the event! Please register here: http://bit.ly/EaP-registration
The event will be organized within the Think Tanks Development Initiative for Ukraine, implemented by the International Renaissance Foundation in partnership with the Open Society Initiative for Europe (OSIFE) and with financial support from the Embassy of Sweden in Ukraine.