New Europe Center has the honor to invite you to the presentation of a unique research of "The European map of Ukraine. Rating of European Integration of Regions" prepared by the New Europe Center analysts in cooperation with the Government Office for Coordination on European and Euro-Atlantic Integration.
"The European map" is the first comprehensive study of Ukraine's progress towards European integration. It is a rating of Ukraine's regions, compiled on the basis of compliance with the indicators, which, in our opinion, most clearly reflect the dynamics of the regions' rapprochement with the EU. Overall, the evaluation was carried out in eight areas within 34 indicators.
At the event you will find out:
which region has been increasing exports to the EU markets most intensively in the last four years;
which regions have received the greatest credit support from the EBRD and the EIB;
in what region the difference between the salaries of men and women is the smallest;
in what areas Ukraine surpasses some of the EU Member States.
The event will be held on November 11th, from 11:00 till 12:30. Registration begins at 10:30.Unfortunately, the number of participants is limited, so we would be very grateful if you could register in advance via this link: http://bit.ly/Euromap_event
Please consider the registration completed, when you receive a confirmation letter from the organizers, in which the venue will be indicated.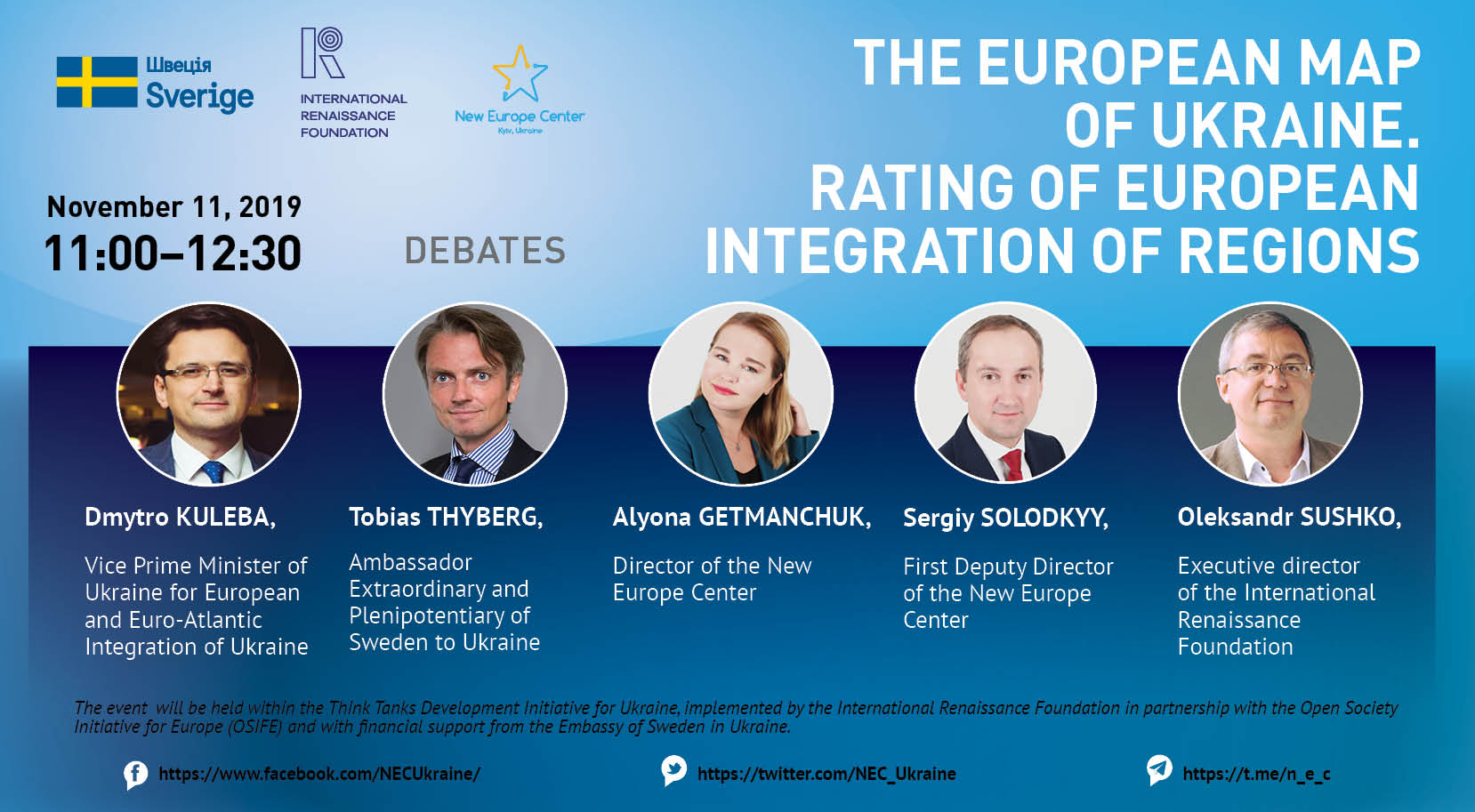 The event is organized within the Think Tanks Development Initiative for Ukraine, implemented by the International Renaissance Foundation in partnership with the Open Society Initiative for Europe (OSIFE) and with financial support from the Embassy of Sweden in Ukraine. The content of this event are the sole responsibility of New Europe Center and do not necessary reflect the views of the Embassy of Sweden in Ukraine, International Renaissance Foundation and the Open Society Initiative for Europe (OSIFE).