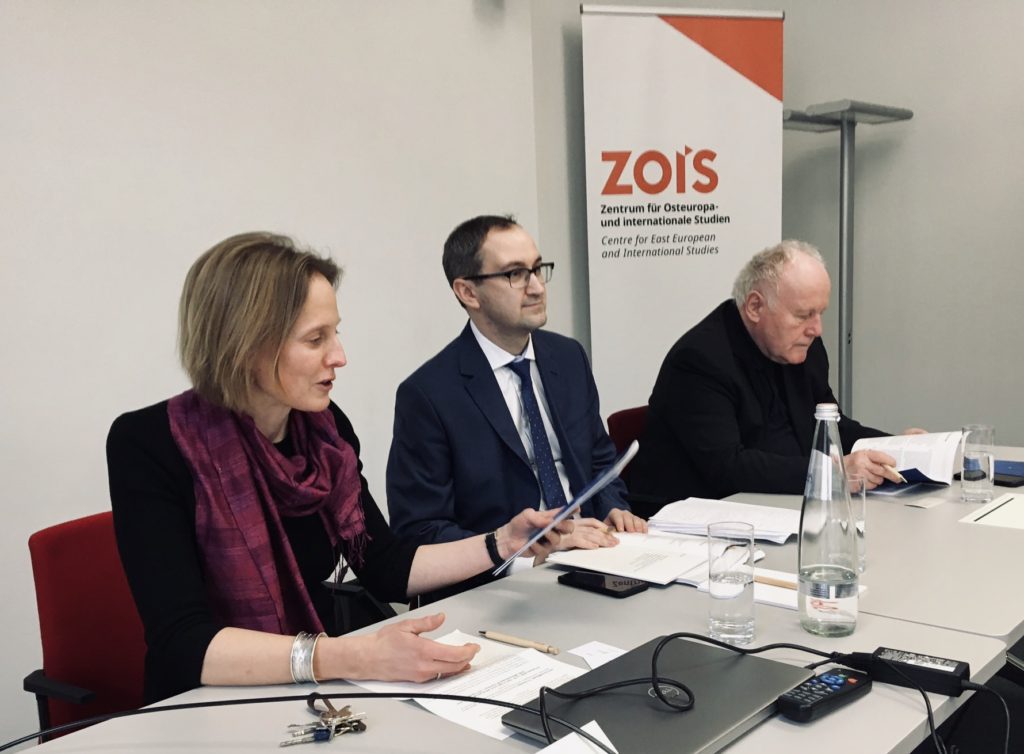 Decentralization and European integration. Is there any connection between them? How can the European Union contribute to the further process of decentralization, which has long been called one of the most successful reforms in Ukraine?
Today in Berlin Sergiy Solodkyy answered these questions during the presentation of the research conducted by the New Europe Center with the assistance of ZOiS (Germany).
This research is based on analytical papers prepared by regional analysts from different parts of Ukraine – Kharkiv, Odesa, Lviv, Poltava, Sumy and Donetsk oblasts.
During the event, Sergiy Solodkyy, in particular, presented the following recommendations:
Intensify information and advocacy activities. There are still many misconceptions about decentralization reform, thus it is critical to continue and intensify information campaigns in order to clarify the details of key components of the reforms. EU could support relevant communications initiatives.
Emphasis on development projects. Donor organizations, which are supported by the EU predominantly, should pay greater attention to supporting local initiatives aimed at launching and implementing development projects.
Increase the workforce capacity of the ATCs. Community development largely depends on the professionalism and initiative of the leadership of those communities (hromady). Therefore, trainings and consultations on attracting investments, business development, strategic planning by EU representatives should be organized for local government officials
Georg Milbradt, Special Envoy of the German Government on Governance and Decentralization Reforms in Ukraine also attended the presentation of the research.  According to him, "due to decentralization, real Europeanization of Ukraine is taking place. This is not about getting EU membership, but it is a real approximation to the EU. Ukraine, by its example, will influence the changes in Russia, which, from the time of tsarism, and especially in Soviet times, used the old methods when everything was decided by the center. "
Find more details about the research and other recommendations here.
The event was organized within the framework of the Think Tank Development Initiative for Ukraine, implemented by the International Renaissance Foundation in partnership with the Open Society Initiative for Europe (OSIFE) with the financial support of the Embassy of Sweden in Ukraine.