On February, 11 New Europe Center hold the public discussion in Zaporizhzhia, at which Tetiana Levoniuk and Sergiy Solodkyy presented the research "The European map of Ukraine. Rating of European Integration of Regions" , prepared in cooperation with the Government Office for Coordination on European and Euro-Atlantic Integration.
Zaporizhzhia region became the third region where NEC analysts presented the paper. Earlier the New Europe Center has already hold the presentations of the research in Kyiv, Dnipro and Chernivtsi.
"The European map" is the first comprehensive study of Ukraine's progress towards European integration. It is a rating of Ukraine's regions, compiled on the basis of compliance with 34 indicators in 8 spheres, which most clearly reflect the dynamics of the regions' rapprochement with the EU.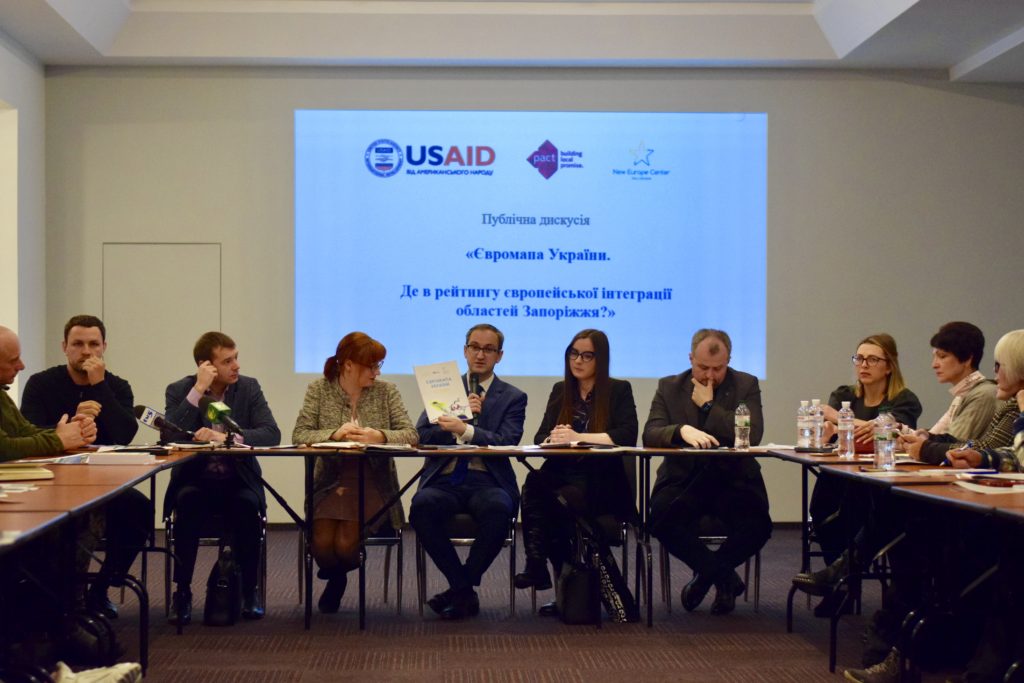 The video from the event is available here:
Pay attention!
The New Europe Center has also prepared infographics on success of Zaporizhzhia in the field of European integration
Please find the short resume on success of Zaporizhzhia in this sphere here.
Please find the pictures from the event here.
The event was organized by the New Europe Center as part of its project implemented under the USAID/ENGAGE activity, which is funded by the United States Agency for International Development (USAID) and implemented by Pact. The contents of this event are the sole responsibility of Pact and its implementing partners and do not necessary reflect the views of USAID or the United States Government.
We are also grateful to the International Renaissance Foundation, the Open Society Initiative for Europe (OSIFE) and  the Embassy of Sweden in Ukraine for the support of the initiative of preparing "The European map of Ukraine" research.