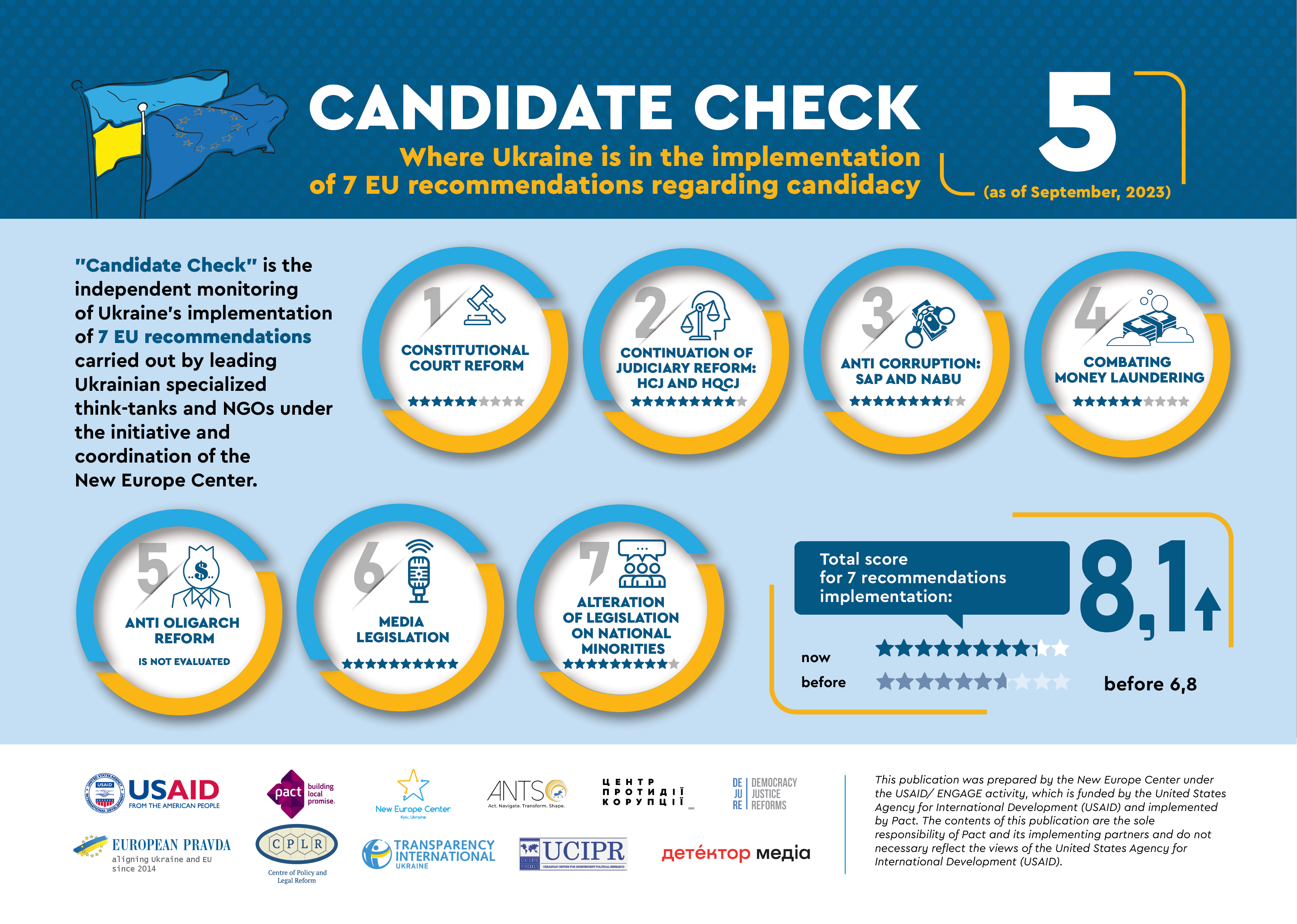 In June 2022, Ukraine received EU candidate status with a number of recommendations to be fulfilled for further promotion to membership.
The New Europe Center, in partnership with several profiled think tanks and civil society organizations, is conducting its own independent monitoring of Ukraine's implementation of seven EU recommendations:
Reform of the Constitutional Court of Ukraine;
Reform of High Council of Justice (HCJ) and the High Qualification Commission of Judges of Ukraine (HQCJ);
Anti-corruption: SAP (Specialized Anti-corruption Prosecution) and NABU (National Anti-Corruption Bureau of Ukraine);
Combating money laundering;
Anti-oligarch reform;
Media legislation;
Legislation on national minorities.
The assessment of reform implementation is conducted on a 10-point scale.
During the year of candidacy, the New Europe Center has already conducted four "Candidate Check" monitoring assessments. According to expert evaluations, Ukraine has demonstrated significant progress in implementing seven EU reforms during this period.
You can find the results of the "Candidate Check" monitoring assessments, including ratings and analytical summaries, here:
The New Europe Center would like to express gratitude to partners who participated in the second independent monitoring of EU reforms implementation:
National Interests Advocacy Network 'ANTS'
Anticorruption Action Centre 'ANTAC'
DEJURE Foundation
European Pravda
Centre of Policy and Legal Reform (CPLR)
Transperency International Ukraine
Ukrainian Center for Independent Political Research (UCIPR)
Detector Media
Experts involved:
Mykhailo Zhernakov, Stepan Berko (DEJURE)
Oleksandr Marusiak, Roman Smaliuk, Eugene Krapyvin (CPLR)
Olena Halushka, Anton Marchuk (ANTAC)
Oleksandr Kalitenko (TI)
Vadym Miskyi (Detector Media)
Serhii Sydorenko (European Pravda)
Yulia Tyshchenko (UCIPR)
Hanna Hopko (ANTS)